One Stop Service
Business Support for Domestic and Overseas Companies with One Stop Service
The Hyogo-Kobe Investment Support Center (HKIS) provides information about industrial parks, sites suitable for industrial plants, idle land and offices for rent in Hyogo prefecture, as well as a variety of local information required for starting a business in the prefecture, especially concerning government-related procedures, employment, housing and daily life. The Center also supports businesses meticulously to satisfy their needs. Please feel free to contact us at the following address.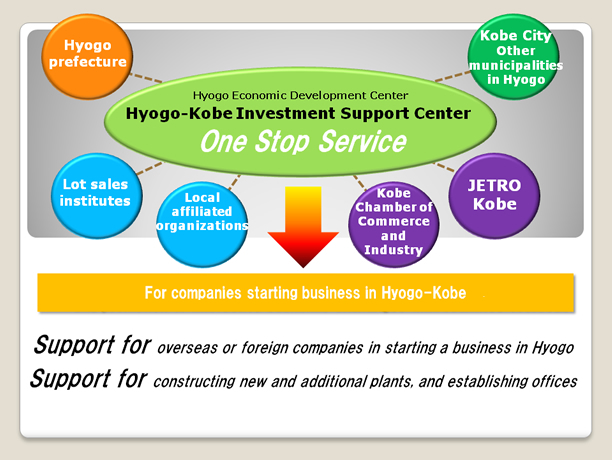 Hyogo Economic Development Center
Hyogo-Kobe Investment Support Center

[LOCATION] 651-0083
4th floor Kobe Commerce, Industry and Trade Center Bldg.
5-1-14, Hamabe-dori, chuo-ku, Kobe
[TEL] 078-271-8401 [FAX] 078-271-8403
https://hyogo-kobe.jp/best/
Hyogo-Kobe Business Support Center in Tokyo
[LOCATION] 102-0093
13th Floor, Todofuken Kaikan Bldg.
2-6-3 Hirakawa-cho Chiyoda-ku, Tokyo
[TEL] 03-3230-2721 [ FAX] 03-3230-2722

[/cha]