6-Best:Access
Access from abroad
Convenient for Travel via 3 Airports
The domestic and international airports in the area shorten the travel time from Hyogo-Kobe to other major cities both in other areas of Japan and overseas, and ensure comfortable flights.
Kansai International Airport is known as the gateway of Japan to/from overseas countries, and to which it takes about 60 minutes by land (limousine bus) or 30 minutes by sea from Kobe Airport. Kansai International Airport offers direct flight services to about 30 countries worldwide.
Kobe Airport is located 18 minutes by the urban train from/to the center of Kobe city, and connects to 13 other domestic cities.
Osaka International Airport (Itami Airport), which is only 40 minutes away by land (limousine bus) from Kobe,provides flight services to about 30 other Japanese cities.
In addition to Kansai International Airport a 70 to 75 minute flight from Kobe/Itami Airport to New Tokyo International Airport (Narita) enables a number of flight services to all over the world.
Access time to airports
Port of Kobe: Connected to a Global Cargo Transportation Network
The Port of Kobe is one of the world's leading ports and is connected by sea route to other main ports around the world, thus enabling easy mass liner transportation, and is proud of its optimal location as a distribution base.
The Port handles regular services for more than 500 ports in over 130 countries and regions that include NorthAmerica,Europe, Central and South America, Oceania, Southeast Asia, and China. It basically connects Japan to the rest of the world in the minimum amount of time.
Regular Services between the Port of Kobe and the Ports of Other Asian Countries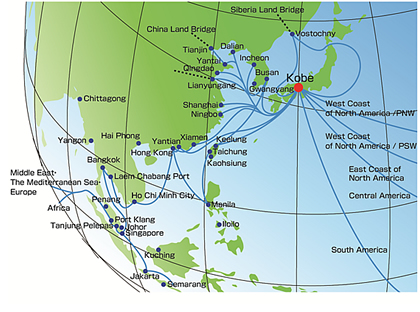 The port of Kobe is the westernmost port of Japan's  5 biggest ports (Tokyo,Yokohama, Nagoya, Osaka, and Kobe).
Kobe is therefore often used as the last port for exporting and the first port for importing Asian services. Kobe actually provides the shortest transit time to other Asian countries. A number of services are available throughout Asia.